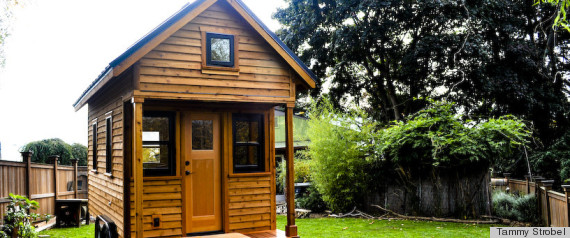 In the beginning of September, Tammy Strobel and Logan Smith moved from Portland, Oregon, to a ranch in northern California. But unlike many homeowners who move, the couple did not have to put their current home on the market or pack up their belongings into moving trucks. Instead, they simply attached their 128-square-foot home (which is on wheels) to the back of a Ford F350, and drove 400 miles to its new location.
This freedom and flexibility is just one of the many benefits Strobel notes about living a simpler, debt-free life in a tiny home. Without financial stress holding them back like it had previously, they are more prepared for drastic life changes. "Jobs move, people lose jobs, people die. So how can you structure your life so that you're more flexible and embrace the good stuff even when loss makes it really really difficult?" she asks. For her and Smith, the answer was a tiny home.
It took about five years for the couple to downsize, first moving to smaller and smaller apartments. Each time they moved into a smaller place, they got rid of more, Strobel says. And it took a lot of reminding themselves of what items they actually needed and used. "Keeping that in mind as a big picture as we moved along was super helpful," she says. "Also, I'm always reminding myself that my relationships are more important to me than stuff." Strobel and Smith even went as far as to sell both of their cars, which allowed them to pay off their debt faster.