Landmark UN analysis concludes global roll-out of clean energy would shave only a tiny fraction off economic growth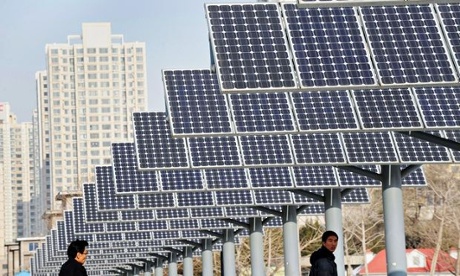 Catastrophic climate change can be averted without sacrificing living standards according to a UN report, which concludes that the transformation required to a world of clean energy is eminently affordable.
"It doesn't cost the world to save the planet," said economist Professor Ottmar Edenhofer, who led the Intergovernmental Panel on Climate Change (IPCC) team.
The cheapest and least risky route to dealing with global warming is to abandon all dirty fossil fuels in coming decades, the report found. Gas – including that from the global fracking boom – could be important during the transition, Edenhofer said, but only if it replaced coal burning.
The authoritative report, produced by 1,250 international experts and approved by 194 governments, dismisses fears that slashing carbon emissions would wreck the world economy. It is the final part of a trilogy that has already shown that climate change is "unequivocally" caused by humans and that, unchecked, it poses a grave threat to people and could lead to wars and mass migration.
Diverting hundred of billions of dollars from fossil fuels into renewable energy and cutting energy waste would shave just 0.06% off expected annual economic growth rates of 1.3%-3%, the IPCC report concluded.

__________________________________________________________________
A HopeDance ad: Time to put up solar panels for FREE through Solar City?
Click logo for details:


____________________________________________________________________

"The report is clear: the more you wait, the more it will cost [and] the more difficult it will become," said EU commissioner Connie Hedegaard. The US secretary of state, John Kerry, said: "This report is a wake-up call about global economic opportunity we can seize today as we lead on climate change."
Last Updated ( Monday, 14 April 2014 01:26 )
Read more...